Last Updated on Feb 28, 2020 by James W
If you're not a native English speaker and you need someone to help you with spelling and grammar, you will certainly like Scribendi. They are the best online editing and proofreading team there is; I just had to write a review to let you know about them.The Internet is becoming a global village, and many people need these types of services, especially bloggers like me.
This company is so great that they want to help you earn money. If you become a Scribendi affiliate, you can earn money by referring your friends to Scribendi via your social media accounts or blog. There will be more on that a bit later.
If your writing looks good, it translates into more exposure and more traffic to your online business.I noticed a transformation in my own work. In the beginning, my writing was of very low quality. But with a little help from Scribendi, I learned ways to improve.
Scribendi offers many different services related to grammar and writing, as well as editing and proofreading; they even offer you the opportunity to make money online.
Who Can Use Scribendi'sEditing and Proofreading Services?
Authors – If you're an author and need proofreading for your book, short story, play, screenplay, or poetry, or you need other manuscript services, Scribendi is for you. It is the perfect solution for Bloggers.
Students or Academics – If you need your essay, term paper, dissertation, or journal article edited or proofread, or you need help with admissions essays or proposals, don't hesitate to contact them.
If English is Your Second Language – and you want to have your documents and writing look as ifthey have been written by a native speaker, you should definitely check them out.
Personal Documents – If you need proofreading for your emails, letters, resumes or other personal documents, this is just the website. Scribendi guarantees totalsecurity in the handling of your documents.
Big Boss or Government – If you are a big corporation or work for the government, then you definitely cannotdistribute your papers and documentsto the public without having them proofread because your reputation is at stake, and your business needs to stay ontop.Scribendi's professional editors can help you enhance your public image.
Why is Scribendi so Cool?
When I say cool, I mean they are the best players online and they know their job, because they've been in business online since 1997.Scribendi is still growing and getting better.They have been entrusted with more than 604 million words (wow!), and have more than 20 in-house employees and 200 remote editors.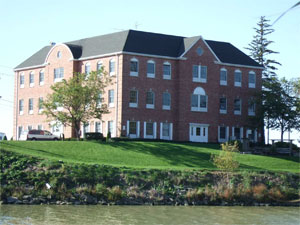 Scribendi's Headquarters in Chatham, Ontario, Canada
Quotation from the website:
"Today, Scribendi.com is the world's leading document preparation service. Scribendi.com provides clients with stability, honesty, and integrity. From term papers to business plans, Scribendi.com can help you handle all of your document preparation needs."
How You Can Make Money with Scribendi
This is probably the most interesting part of mypost—the part where this wonderfulcompany can help you make money online just by referring friends via social media or blogs.
It's pretty simple.First, you first need to sign up on thislink: https://www.scribendi.com/becomeaffiliate.en.html
I personally found it very easy to sign up.There are just threefields to enter:first name, last name, and email. After that, you will receive amessage in your inbox welcoming you to the website as a Scribendi ambassador.Basically, you will earn a commission for every person signed up through your link.
When someone you have referred to Scribendi.com makes a purchase, your unique link is logged, and you are credited with a commission for that purchase.
For example, if someone buys a service worth $85, you will get $8.50 and there are opportunitiesfor more earnings.Your commission will be increased if you are a good affiliate.The best thing about being a Scribendi affiliate is that it doesn't matter where in the world you are. Check out Scribendi's website to learn more.
Thank you for reading!
additional resources: https://www.instructionalsolutions.com/blog/proofreading-techniques